De Samsung Galaxy S9 en de S9+ worden over een tweetal maanden verwacht. Er is inmiddels al veel over deze high-end smartphones online verschenen. Vandaag wordt er opnieuw een detail bevestigt.

Galaxy S9 en Galaxy S9+ browser test
We hebben zojuist enkele HTML5 test resultaten gevonden van zowel de Galaxy S9 als de S9+. De HTML5Test website wordt gebruikt als benchmark om browsers te testen. Door de test uit te voeren wordt een score toegekend, welke vergeleken kan worden met andere toestellen.
De test is uitgevoerd met de Samsung SM-G960F en de SM-G9650, dit zijn zeer hoogstwaarschijnlijk de Galaxy S9 en de S9+. Bij de S9 staat een schermresolutie van 360×740 pixels vermeld. Bij de S9+ daarentegen staat een resolutie van 412 x 846 pixels. Hoewel dit natuurlijk niets zegt over de maximale resolutie, zegt dit wel wat over de schermverhouding. Beide smartphones zullen de 18.5:9 verhouding behouden.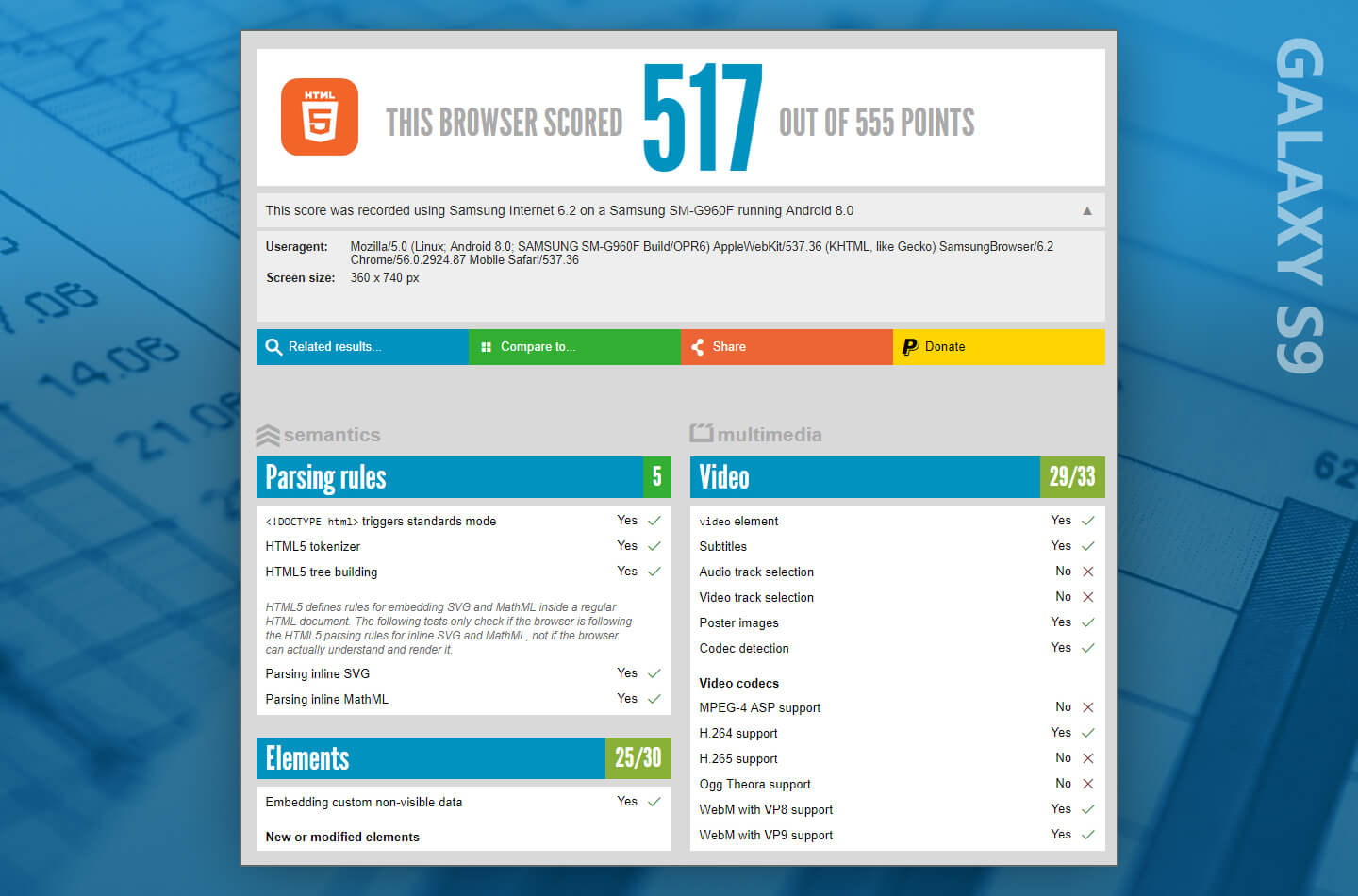 Schermverhouding van de Galaxy S9 smartphones
Enige tijd geleden ging het gerucht dat Samsung de onderste bezel zou verkleinen. Hierdoor zou een nog grotere screen-to-body-ratio gerealiseerd worden met een 21:9 verhouding. Eerder deze maand ontstonden er echter speculaties dat dit toch niet het geval zou zijn. De HTML5 testen tonen aan dat de Galaxy S9 en Galaxy S9+ inderdaad over dezelfde verhouding beschiken als de Galaxy S8 smartphones.
De HTML5 Test van de S9 is hier te bekijken, de S9+ hier.

FOR OUR INTERNATIONAL READERS
We just discovered some new details about the Galaxy S9 (SM-G960F) and the S9+ (SM-G9650). The data has been obtained from recent HTML5 tests. The HTML5TEST website is used as a benchmark to test browsers.
The browser test results show the S9 has a screen resolution of 360×740 pixels. While the S9+ has a resolution of 412 x 846 pixels. Although this says nothing about the maximum resolution, this does tell us something about the screen ratio: both smartphones will keep the 18.5: 9 aspect ratio.